Stickman: Hey! ....hey? HELLO!? MAD!? OH GOD...HE'S NOT HERE...I HAVE TO BE RESPONSIBLE...DO I HAVE TO EDIT THIS THING MYSELF!? OH GOD. OH NOOOOO. OH GAWwwwwwwwWwwwwwwWWWWWWWWWWWWWWDDD. Hey.
Larry: Ahem, I'm here tooooo.
Stickman: Oh hey Larry, what's up. Ready to talk about movies with slightly more length than usual in order to cover for a missing member of our team?
Larry: Oh hell yeah. That's the only thing I'm good at.
Stickman: There's no big news or anything to cover, or any critically acclaimed potential Oscar upsets in the waiting later on. So frankly, why bother, huh? OH WELL, HERE WE GOOOO.
Larry: LETS A GO MANNNN
NEWS
AVENGERS: ENDGAME NAME AND TRAILER REVEALED
For a long time now...even before the release of Infinity War, the question on the mind of a lot of Marvel fans...and clickbaiting media sites has been...just WHAT is Untitled Avengers Movie, the fourth installment of the epic crossover franchise? After Infinity War itself left cinema-going audiences reeling from its shocking snap of a twist the question became even moooore tantalising. We were told it was a spoiler for the movie, we were told we'd have to wait until the end of the year to find out. Well...it's the end of the year, and they stayed true to their word. AVENGERS: ENDGAME....is a somewhat generic and pre-leaked name that didn't need concealing from the world like it was proof of alien life. Thankfully, alongside the name we got our first look at the film in action via a brief but effective teaser...SPOILERS...everyone is sad, except Ant-Man, he's doing pretty okay. We see the surviving Avengers members ...and Ant-Man as they deal with the fallout of Thanos' universe halving victory, Captain America and his remaining pals working out a final plan..or...END GAME if you will to fight Thanos, whilst Tony Stank slowly dies of cold and oxygen depletion alone in space. Except probably not because damn that'd be dark. Anyway, not much to go off, but still...pretty exciting stuff.
Larry: Oh hey, the trailer nobody could shut up about regarding the release date.
Stickman: God, even I got fed up with the speculation, and I was ready to cum to this thing.
Marvel kept quiet literally until the second they posted the damn thing, and even then they left out the name.
Larry: Yeah it was ridiculously excessive. But thankfully, the trailer was pretty worth the wait, especially for us patient ones.
Stickman: It was a pretty somber but exciting tease of bigger things to come. Also Ant-Man was there.
Larry: Absolutely. We got just enough information to keep us enticed, some exciting character reveals, and a few jokes too.
Stickman: Kinda lacked in terms of spectacle, though. Unless you count Captain America crying his lil babyface out.
Larry: Eh, after what happened at the end of Infinity War, I think a little less spectacle could do us all some good. Still not over those last five minutes.
Stickman: I mean I want it to go big evenntuallly, don't need to show us that in the trailers mind. They could just show the logo and people would turn up to see what happens next. Which in a way they kinda did with this teaser. It's not the fastest viewed trailer of ALL TIIIIME
Larry: And that poster tho. I may like that as a whole more than the very trailer itself to be honest.
Stickman: Another one for the colourful A collection.
Larry: It's like the meme but ridiculously dark and heart-churning.
Stickman: It was a pretty good teaser, and paired with the fun second Captain Marvel trailer? MCU looking good for 2019 boooooyy.
Larry: And that's not even the last of our Marvel trailers maybe possibly it hasn't come out yet but HOPEFULLY IT WILL BY THE TIME THIS IS POSTED.
Stickman: The future people will know better than us foolish past persons. MOVING ON.
So, apparently "Spider-Man: Into The Spider-Verse" lives up to the hype and then some (which we'll get to laterrrrrrr), and Sony, specifically Sony Pictures Animation, has so much dang faith in it that they are already fast-tracking some extensions of the brand, including a sequel and an all-female spinoff!! Digging into the details, Joaquim Dos Santos ("ATLA," Netflix's "Voltron") will be directing the sequel from a script by "Wonder Woman 1984" scribe David Callaham. The all-female spinoff, centered around the heroine characters within the Spidey universe (and likely to be lead by Spider-Gwen, who we follow for a bit in Spider-Verse), has Lauren Montgomery in negotiations to direct, with Bek Smith (who did some work for "Captain Marvel") writing that script. Amy Pascal will produce both projects, and many others (from geniuses like Lord and Miller to...lesser so creatives like Avi Arad) will most likely jump on board. Usually, when we hear of early sequels in development like this, we are one to criticize. But, seeing as Spider-Verse is getting pretty much universal acclaim, seems as though Sony aren't really jumping too far. Plus, given the diversity of the film, I love seeing the focus on an all-female spinoff, smart move Sony (wow I actually just typed that). How this is gonna balance against the Venom universe is hard to say, but all I know is that at least we'll get one place for quality Spooder-dude content!! Huzzah!!
Stickman: Oh damn, I'm more excited for the base film right now cuz DEM REVIEWS THOUGH.
Larry: Yeah man I'm kinda riding this hype train like a motherfucker. Some are calling it the best Spider-Man movie...ever.
Stickman: Just a few daaays to gooooo. Sony know they got an actual hit this time, so they aren't gonna waste the ready-baked potential of the expanded universe. It's still not gonna make the same bank as Venom, mind. Because we live in hell.
Larry: Sadly... But the movie will surely be better and that's what matters.
Stickman: Helllll yeah. It's good to know a sequel is in the works, and once again Sony have lined up an all female spin-off...which will be the third time they've attempted to set one up in a Spider-Man cinematic universe. Maybe this one will actually happen.
Larry: Well with this good of a foundation, the diversity is much appreciated. I'll keep my eye out on ol' Spidey Gwen
Stickman: I'm always here for Spider-Gwen. I'd only be more here for Spider-Ham.
Larry: SPIDER. HAM. The campaign for John Mulaney for Best Actor starts now.
Stickman: More like Best...uhhh....PigPun...for...actor...nnn...never mind. He really...gonna BRING HOME THE BACONN. HhhH...YEAAH.
Larry: Gooooooood one.
Stickman: Stop bullying meee. Anyway, I'm really glad Sony have finally landed on their feet, and with such a unique looking project to boot. I just hope they can maintain the quality across the spin-offs...because god knows Sony doesn't actually care if the film comes out well or not.
Larry: And let's hope Avi Arad's involvement is to a minimal extent, yeah?
Stickman: Oh god. DON'T BLOW THIS FOR US, SONY. MOVING ON.
...hooo boy, alright. So, not too long ago, The Academy, after an apparently difficult search to fnd a host for the upcoming 2019 Oscars ceremony, announced that comedian Kevin Hart ("Central Intelligence," "Jumanji: Welcome to the Jungle") would host the show to a resounding....oh, cool, okay whatever. So all was well and good...until the internet decided to throw a wrench in the works. Apparently, between 2009 and 2011, Kevin Hart posted some homophobic tweets, which people decided to dig up and remind everyone of. Additionally, a portion of his early standup involved him making jokes about the possibility of his son being gay, and how he wouldn't want that to happen. He claims it was a joke centered on his own insecurities, but nevertheless, it's messy looking back. Anyway, so the Academy saw these tweets and asked Kevin Hart to apologize, and Hart decided not to, instead going on Instagram with a video claiming he already apologized, and that he had moved on from all of this years ago. It certainly wasn't a...sensitive reply, and when given an ultimatum choice to either apologize or lose the job, Kevin Hart stepped down as host, but ended up officially apologizing to the LGBTQ community via a tweet. And so, this entire mess has put the Academy back on square one. Who will be host next? Will they also have five year old homophobic tweets? Will the cancel culture ever end? Only time will tell...for now, I would like to remind everyone that Night School was pretty pants.
Stickman: AHAHAHAHAHA, what a ride.
Larry: Oof. Big, BIG oof.
Stickman: What's especially funny is how easy this could've just blown over, but he made a big stance out of it and lost his dream job, and now the Academy are boned again.
Larry: Yeah, it all sucks. It sucks the cancel culture makes shit like this happen in the first place, it sucks Hart couldn't just man up and apologize, it sucks that he lost the opportunity cuz I felt like he was a solid choice, it sucks cuz the Academy is now probably scrambling to find a new pick. Like, Christ, the ceremony is in THREE MONTHS. LESS.
Stickman: People keep bringing up this cancel culture, but he chose to not apologise, and then chose to step down over it. Like...the Academy were probably too desperate to actually ditch him.
Larry: Perhaps. But even so, Hart did apologize for the standup at least. It's not like Hart is this homophobic person still working, he made off-kilter jokes, and then publicly made a statement at how he doesn't do those jokes anymore because the times are changing, and then he moved on.
He should have apologized again, especially since he has never formally apologized for those tweets. But I can understand frustration is having this whole whirlwind get swept up over shit you got over five years ago.
Stickman: Well the thing is what he said on Twitter wasn't jokey, it was more....hatespeechy. Like talking about how he'd throw a dolls house at his kid if he wanted to play with it, and then justified this by saying he'd do everything he could to stop his kid being gay. That's not a jooooke that's just....a shitty mentality. That's not to say he hasn't changed? But...he refused to apologise about it? So....yeah? Makes you wonder, whereas if he just said sorry this wouldn't even be a conversation.
Larry: He really hasn't formally apologized, until the announcement tweet anyhow, so I definitely think he should have. It wasn't like Gunn who actually definitely had apologized for it before.
But it just worries me that people can't really let things be. To be honest, anything before 2016, to me, is subject to time and change. A shit ton of stuff has happened over the last two years, and it has opened a lot of people's eyes.
Stickman: I feel it's a case by case thing, and his reaction to it resurfacing was pretty stupid, so that's on him regardless. Either way... the Oscars once again remains hostless, and it sounds like it's getting hard to find anyone who actually wants to do it.
Larry: It's also just very cherrypick-y to me. Jimmy Kimmel literally did blackface once and nobody called him out. Donald Glover used to make black jokes and asian jokes in his standup, nobody ever calls him out.
Stickman: Donald Glover ain't hosted the Oscars bruv.
Larry: I'm saying he was a prominent black comedian. Cancel culture just isn't a consistent way of judging these things. Broad strokes. Good luck to the Academy in finding ANY replacement now, they're fucked honestly.
Stickman: I don't feel like this is 'cancel culture'. It was his choice to not apologise, it wouldn't have been an issue otherwise. They may have held the knife but he chose to run into it. It was an easy dodge and he tumbled headfirst into a shitstorm so, whoops.
Larry: Well, in my opinion, had the comments not resurfaced, nothing would have even had to be done, period. I don't think anyone looks good here. But I'm not gonna just overlook how the dominos began falling.
Stickman: The Academy literally didn't do anything so it's not cancel anything. ANYWAY....look forward to the Oscars being hosted by an inanimate carbon rod this February. Moviiing oonn.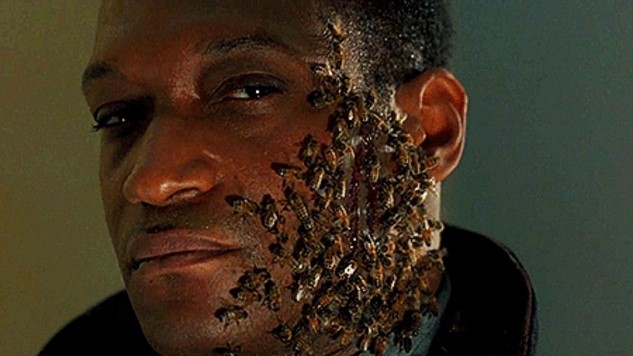 Ever since his directorial debut with Get Out, Jordan Peele has been the big man about town in Hollywood. Numerous projects are in the works with his varying degrees of involvement, most notably being his upcoming second film 'Us', which is out next year...but there's just a whole buncha cool sounding shit in the pipeline. Another project joined that roster this week, as after some earlier rumours in the year, we finally got confirmation that Peele is set to produce and co-write a reboot of the cult 90s slasher Candyman. This politically relevant (If not a little cheesy) horror seems like a perfect fit for the guy, and he's said the original was an longtime inspiration for him to get into filmmaking in the first place. Up and coming director Nia DaCosta is set to direct, with Tessa Thompson and Lily James lined up to star, with a 2020 release date in mind for the film. Honestly, this is one of those films that's well due a reboot, and you can't do much better than with an early team of this quality. Bee wranglers, start your engines.
Larry: So I have zero clue what this is about or what it's gonna be like. So. Here goes nothing.
Stickman: Candyman was about a urban legend in a crime-heavy urban development region that drives people insane and to murder for him, or kills people if they say his name in the mirror three times. Also some beeeees.
Larry: Ooh, bees? I'm sold.
Stickman: He has them in his mouth. Now...the original Candyman is actually pretty unique and interesting, got a great atmosphere....but it ain't a perfect film and it's drowning in dated 90s tropes. The idea of having a contemporary remake/sequel worked on by Jordan Peele, who's already proven himself a master of politically charged horror? Yes please.
Larry: Yeah it's really exciting to see him take on another project that fits his creative interests.
Stickman: It's a shame he ain't directing, but let's face it, he's a busy boy.
Larry: He's directing something else ain't he?
Stickman: Yup, he's directing US...by which I mean the film Us, not us as people...I think? I haven't checked, maybe he's in the wardrobe.
Larry: Hmmm maybe.
Stickman: Anyhow, this is a fun project, maybe watch the original Candyman, Larry. DO SOME HOMEWORK, GEEZ.
Larry: Either way yeah it's good to see him continuing on in the horror genre. I'm glad he had a hit and is trying to follow through.
Stickman: Don't blow it, Peeeeeele. Moooving on.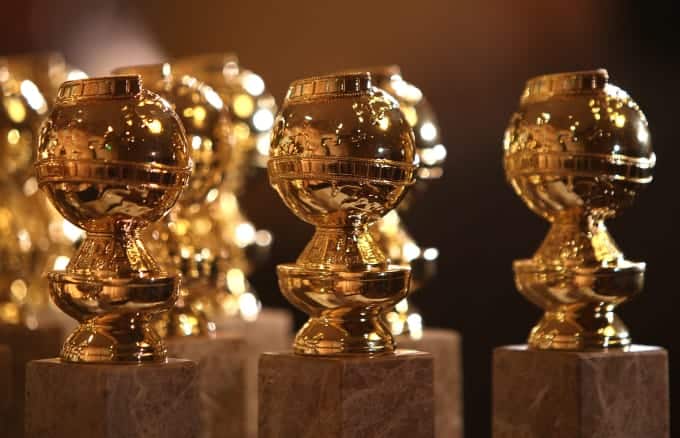 It's around that time of year, when the Oscar's estranged, drunkard step-brother the Golden Globes announce their nominees, and the results are quite interesting. For starters, "Vice," the Adam McKay biopic about Dick Cheney, which has yet to even have its review embargo dropped, led the pack with six nominations. Other big hitters included "The Favourite" and "Green Book" with five nominations in the comedy categories, and "BlacKkKlansman" and "A Star Is Born" leading the drama categories with five as well. Other interesting nominations included one for "Black Panther" in the Best Picture Drama category, and one for Crazy Rich Asians in the Best Picture Comedy (or musical) category, and even though the Globes are generally more mainstream, these are two high profile diversity showcases, so it's nice to see some love! It's also worth noting that "Incredibles 2," "Isle of Dogs," "Mirai," "Ralph 2," and "Spider-Verse" round out the animation category, leaving "Early Man," in the dust, sadly. As always, there were plenty of people looking out for the snubs, with A24 fans especially feeling underrepresented. Besides for a nomination for Elsie Fisher in "Eighth Grade" (which is admittedly amazing), not a single one of A24's four major awards contenders received nominations, leaving "First Reformed," "Hereditary," and "mid90s" with cold Oscar chances. Other films assumed to be contenders such as "Widows" and "First Man" also fell short. Alas, we cannot all be winners. It'll be interesting to see how this aligns with the Academy's nominations come next year, but for now, let's drink a martini and get ready to fuck around come Globes night in January!
Stickman: RIP Aardman, murdered forever.
Larry: Basically. "Early Man" didn't really have a strong foundation, honestly.
Stickman: How dare you, Early Man was....a ...film that existed which had ...some merits. But I guess other things were nominated at this awards too. I've never really seen eye to eye with the Golden Globes, and this year is no different.
Larry: So odd that Vice, which nobody has seen reviews for, is leading the pack. Same thing with Mary Poppins getting an admittedly obligatory nom under the same circumstances...
Stickman: To be fair Mary Poopins Returns is in several Best Films of 2018 lists and it's not out for like three weeks.
Larry: Yeah it's so fucking weird. Just goes to show the privilege these critics have in seeing this films so damn early.
Stickman: I think these things get shown pretty far in advance and get embargo'd...but still want awards nominations.
Larry: I guess. Just feels a little weirdddd ya know
Stickman: It's a good sign for both though...right? Although The Tourist got nominated for a Golden Globe so never mind.
Larry: Yikes. But hey SPIDER-VERSE
Stickman: Heeeyyy
Larry: YEEEEE THIRD TIME MENTIONED IN THIS SHOW SO FARRRR. OR SECOND DEPENDING ON THE NEWS STORY ORDER. OR FIRST, IDK, EDITING.
Stickman: What do we think about Black Panther being in there. It certainly ain't gonna best special effectsss, cuz geeez.
Larry: Me? Eh, I dunno. s'a good movie. Not sure I believe it's "Best Picture" caliber qualitatively, but I understand how as a diversity pick it bumps ratings.
Stickman: Infinity War was betterrrrrr and I'll die on that hill.
Larry: But I much rather prefer a Moonlight that actually advances the medium is substantial ways getting recognition that ALSO have diversity.
Stickman: We don't really have a Moonlight this year.
Larry: Except Beale Street. But only cuz Jenkins.
Stickman: You just want another hoodie from him.
Larry: I had issues with both Marvel films, honestly. I don't really consider Marvel films worthy of getting awards recognition because they don't usually do much that I would consider deserving of awards votes.
Stickman: Needed to see Thanos' bum, I understand.
Larry: You can argue IW is just such an EVENT film that it should be recognized, but that's more of a consumerist angle on it. At least BP brought diversity and afro-futurism to the screen. Still, I always base my awards love on storytelling first and foremost.
Stickman: Honestly movie awards are about what's best and not what's most the significant or diverse. If those intersect with the nominees? Then great, but it shouldn't be a requirement. If you make a damn good movie you shouldn't be locked out for not changing the world at the same time. THAT'S JUST ME THOUGH.
Larry: Totally agree. That's why I would nominate Eighth Grade, for example. And why I'm upset it's not getting more love. That's a perfect example of a film that tells a story and, filmically, is basically perfect in its execution of emotionally investing you in it.
Stickman: I AIN'T EVEN SEEN. Either way, awards season is fuckin going strong now. We're all trapped on this crazy train for another 3 months. God help us all. MOVING ON.
What's that I hear you say? YOU LIKE COMIC BOOK MOVIES? WEELLLL HAVE ALLLL THE COMIC BOOK MOVIES IN THE WOOOOOORLLD! With DC's next film out in a matter of weeks, and Marvel throwing out a slate of trailers for their 2019 cinematic lineup, you'd be forgiven for thinking this week's news would thoroughly be set in the next 12 months...but you'd be WROOONG. It's not an episode of Screwvies without either a Disney live action remake or a DCEU project being announced...or both...and this week it's DC's turn to get yet more projects crammed into its already overflowing mess of a unscheduled schedule. First up, we have Blue Beetle, which would become the first Latino lead superhero movie., based on the DC character of the same name who's modern incarnation has a fucking sweet ass suit, I tell you what. Not only that but everyone's least favourite member of the Flash TV series' cast PLASTIC MAN is getting his own film, disconnected from said, increasingly mediocre TV show. The latter is in early development, whilst the former has been rumoured for some time and has a couple people attached to write and produce. Woooo.
It's not just DC though OHH NOOO, the MCU is getting its own development story. Having thoroughly burned Iron Fist to the ground with its Netflix show, Marvel are aiming to launch their first Asian led film in the form of the somewhat obscure character Shang-Chi, who just so happens to be a martial arts superhero...oh yes, another one. Not much else is known at this point, but it's likely Marvel want to continue forwards with a more diverse assortment of stars following on from the previously discussed Endgame. Wooorks for me. There sure are a fuckton of comic book movies in the works.
Larry: These all kinda sound awesome.
Stickman: I have no faith in Plastic Man after watching The Flash TV show. He's dead to me.
Larry: I've been waiting on a Plastic Man film for YEARS. FOR YEARS. GIVE IT TO ME.
Stickman: HE TURNED INTO A GIANT WOOPIE CUSHION LARRY. HE'S BEING USED AS A VEHICLE FOR INFLATION FETISHSM I SWEAR.
Larry: Okay well that's kinda stupid admittedly, but the character is really fun and, with the right character actor, it could be amazing.
Stickman: Do you trust the DCEU though, Larry? I don't. Not yet anyway.
Larry: I guess it, I guess this is the fan excitement in me screaming.
Stickman: My inner DC fan died when it watched Justice League. But hey, Blue Beetle got a cool ass suit. A cool ass suit that'll be hard to translate to live aaacction, mind.
Larry: Yeah the Blue Beetle is a really great character, I'm glad he's getting a film.
And more diversity!!
Stickman: With their powers combined...they have....buggy....stretchy....something. I think diversity is the key thing, with both Blue Beetle and the MCU project. Filling gaps in diversity has proven to be a big factor, and as long as it isn't gay people, Disney are all about it.
Larry: Lol important detail there. But yeah, it's good to see underrepresented communities getting superheroes to look up to, what with this and Spider-Verse.
Stickman: It's good...if the films are good, y'know? I trust Marvel to put out something that's at least entertaining. At this point I don't feel the same way towards DC, and they have about 50,000 more projects in the works.
Larry: Yeah we obviously trust Marvel more. If DC just did good shit with all of the projects they try and put out, we'd be fine. We would get excited. But nay.
Stickman: I'd settle for at least enjoyable, but we'll seeee...these projects are all very early in the works and may never even happen...if they do? We might actually be at a point in time where they've got their shit together...if the world hasn't been destroyed by a nuclear holocaust prior.
Larry: And it seems like we're getting closer and closer to balancing out the diversity issue. Slowly getting closer.
Stickman: One day it won't even be a selling point. I HOPE....nnn...moooving on.
Larry: True. Oh well. Take what ya get, I guess.
-----
Stickman: Alright, so that was the news...we may or may not have had some things in there depending on what actually happened in the future. By which I mean we totally wrote this in order. Mhmm. ANYWAY, there's movies out this week...there's some good ones tooooOooooo....and not a Star Wars film in sight. Noice.
Larry: Wow, that's a shocker. What are we getting, fifteen a day now or something?
Stickman: Imagine if Solo a Star Wars Solo Story had been this year's big Christmas release.
Larry: What a world.
Stickman: We're not quite at the BIIIIIG Christmas release...but we got some pretty big ones still, INCLUDING THIS LITTLE HUM DINNNGERRR
MOVIES
SPIDER-MAN: INTO THE SPIDER-VERSE
DIRECTOR: Bob Persichetti, Peter Ramsey and Rodney Rothman (Rise of the Guardians) 
STARRING: Shameik Moore, Jake Johnson, Hailee Steinfeld, Mahershala Ali, Nicolas Cage, John Mulaney, Kimiko Glenn
SYNOPSIS: Miles Morales (Moore) crosses parallel dimensions and teams up with the Spider-Men (Johnson, Steinfeld, Cage, Mulaney, Glenn) of those dimensions to stop a threat to all reality.
Stickman: YAAASS
Larry: HYPE TRAIN. CHOO CHOO.
Stickman: Who'd of thought something that we first heard about through Sony emails leaked by the North Koreans would turn out this awesome?
Larry: Oh shit was it really from that? That feels like forever ago...
Stickman: It was, it was like 4 or 5 years ago. Animated Spider-Man been in the works a long time, but it's almost here, and it was seemingly well worth the wait, given it's currently 100% on Rotten Tomatoes with an average of 9/10 and 80 reviews so far.
Larry: See like, I knew this was gonna be good. But THIS good? I can't say I was ready: I'm about to nut in the theatre.
Stickman: I thought it looked beautiful but had some reservations about the tone...but looks like I need not fear.
Larry: NO FEAR HERE.
Stickman: This feels like a late contender to break Disney's Animated Feature streak at the Oscars...providing it gets nominated, Phil and Chris don't have the best of luck with that category. Never thought a Spider-Man animated movie would be the one to do it, but I'll be glad if it does.
Larry: I'd be happy if Lord and Miller were able to give a big F U to the Academy should they win. Still no excuse for the LEGO Movie's snub.
Stickman: God that still stings so hard. GOD DAMNIT. Still, this is looking to cap off the year on a high note, both for animation and cinema in general.
Larry: Some are calling it one of the best of the YEAR. IM SO HYPE.
Stickman: I'M FUCKIN' READY SON. MOVING ON.
MORTAL ENGINES
DIRECTOR: Christian Rivers (second unit director of Lord of the Rings & The Hobbit) 
STARRING: Hera Hilmar, Robert Sheehan, Hugo Weaving, Jihae, Ronan Raftery, Stephen Lang 
SYNOPSIS: A mysterious young woman named Hester Shaw (Hilmar) joins forces with Anna Fang (Jihae), a dangerous outlaw with a bounty on her head, and Tom Natsworthy (Sheehan), an outcast from London, to lead a rebellion against a giant predator city on wheels.
Stickman: Oh...well...then there's this one. Hrm.
Larry: Hm. Mad Max Fury Road met up with Civilization and made one hell of a baby.
Stickman: This is either going to be fucking awesome, or a huge trainwreck....or....giant city on wheels wreck. Wait what.
Larry: I hear it's not really either but closer to the latter if anything.
Stickman: Can't believe it. It's weird because they've been promoting this film since LAST Christmas I swear. Like...they really wanted to get the word out about this film..which has...things in it.
Larry: I mean it definitely has a lot of things in it.
Stickman: It sure does. More things mean better films right. Wait what.
Larry: Well to a man like Peter Jackson it certainly does.
Stickman: He didn't even direct this film, too busy making historically significant WW1 film restorations.
Larry: Putting more time and effort into keeping history alive over boom crash explosion car fun? What a nerddddd.
Stickman: There's a lotta CGI shit going on, lotta weird fantasy shit...Hugo Weaving is here. It's got all the hallmarks of a disasterpiece. OH WELL, I never thought I'd see the day where London on wheels wasn't a good film premise. Bummer.
Larry: Yeah this feels similar to Nutcracker in the sense that it feels ridiculously fake due to all of the CGI and shit.
Stickman: I wish someone would crack Peter Jackson in the nuts for making this film. MOVING ON.
Larry: OOH BURN. Only the most savagery here At The Screwvies.
THE MULE
DIRECTOR: Clint Eastwood (Sully, The 15:17 to Paris)
STARRING: Clint Eastwood, Bradley Cooper, Laurence Fishburne, Michael Pena, Dianne Wiest, Andy Garcia
SYNOPSIS: A 90-year-old horticulturist and WWII veteran (Eastwood) is caught transporting $3 million worth of cocaine through Michigan for a Mexican drug cartel.
Stickman: Oh hey, remember Clint Eastwood? He's back, in mule form.
Larry: Oh, Clint. You really must stop with these filmy shenanigans.
Stickman: There was a point in time where a Clint Eastwood directed film was something to anticipate. We got two this year and both ended up pretty pants. I mean, I guess that's presumptuous of me but...I mean.
Larry: See I liked Sully a lot, more than most. But even I'm here to admit that American Sniper is pants lol. I really can't say I ever look forward to these.
Stickman: That baby in American Sniper was more believable than the acting in Train to Paris I hear.
Larry: Oh, ya don't say?
Stickman: I do say actually.
Larry: Certainly was less stiff I'm sure. Untrained actors surprisingly don't make good actors in a strictly scripted film.
Stickman: There was a point, with Million Dollar Baby, Gran Torino....Flags of our Fathers? Clint Eastwood made good shit. Nowdays you brace for a mess...and that's not including when he yells at empty chairs.
Larry: Ugh Million Dollar Baby is excellent. Wish we got more films like that.
Stickman: I don't think I could emotionally handle any more films like that.
Larry: True but let's still get 'em lol
Stickman: I also can't handle The Mule....I wish it was an animated movie where Clint Eastwood plays a talking mule going on an adventure. But alas, it's another gritty crime caper. Ah well, we'll always have the Gorillaz song.
Larry: Sounds closer to The Star. Remember that?
Stickman: I do, that film...sure existed.
Larry: Clint Eastwood shoulda voiced the donkey and they shoulda called it "The Mule."
Stickman: There we go, problem solved. MOVING ON.
IF BEALE STREET COULD TALK
DIRECTOR: Barry Jenkins (Medicine for Melancholy, Moonlight)
STARRING: KiKi Layne, Stephan James, Teyonah Parris, Regina King, Colman Domingo, Brian Tyree Henry
SYNOPSIS: A woman (Layne) in Harlem desperately scrambles to prove her fiancé (James) innocent of a crime while carrying their first child.
Stickman: OH SHIT. DON'T CALL IT A COMEBACK
Larry: MY BOI BARRY. Throwback to when he Venmo'd me $75 for an A24 hoodie.
Stickman: Barrrrryyy....JeeeYnNnNKkiinnsssaah. Did he actually do that?
Larry: Yeah, it was a Twitter thing.
Stickman: What a boss.
Larry: We're friends on Venmo. Claim to fame.
Stickman: I wanna be friends with Barry Jenkins, fuck you.
Larry: So does the world.
Stickman: Anyway, this film looks pretty daaaamn swell.
Larry: But watching his films certainly paints a portrayal of him. I feel like his films are very symbolic of who he is as a voice in the industry.
Stickman: This and Moonlight portray a smoking fetish of his but y'know.
Larry: Yes, this is true.
Stickman: I'll still watch it...if I get a chance, and if I can emotionally handle iiiit.
Larry: Yeah I'm definitely going to seek this one out.
Stickman: Moonlight got to me, it was very pooowerful stuff.
Larry: Ya don't miss a Jenkins joint no more.
Stickman: I actually was pretty bummed out for a while after seeing it, which says a lot about its IMPACT.
Larry: Indeed, I definitely slept on it when I first watched it, looking back on a second and third viewing, it's iconic.
Stickman: It's great stuff, and this seems like another hit for him. Gonna be rolling in A24 merchandise money, son.
Larry: Yeah the praise has been non-stop, with Regina King's performance in particular stirring up the awards buzz.
Stickman: This is definitely going to be in the awards conversation, although the buzz seems to have died down to the point where maybe it might just be in that conversation and not lead it. Early days yet mind.
Larry: Nah, The Favourite is definitely leading it. But it's definitely in the conversation.
Stickman: I wonder if any of the other films todaaay will be in the coversatioooon, let's seEEEEEEEeeeee.
VOX LUX
DIRECTOR: Brady Corbet (The Sleepwalker, The Childhood of a Leader)
STARRING: Natalie Portman, Jude Law, Stacy Martin, Jennifer Ehle, Willem Dafoe
SYNOPSIS: An unusual set of circumstances brings unexpected success to a pop star (Portman).


Stickman: Oh never mind. I don't know what this is even.
Larry: Yeah feels like this wanted to be a part of the conversation, but was too weird to fit in.
Stickman: The production company was NEON though, that's my fetish. Seems like this is one of those "Oscar baity" films that didn't catch any fish.
Larry: True, NEON is a bit hit or miss tho. Yeah it's got Portman putting on a tour de force, basically the anti-Jackie. Feels like if A Star is Born met up with Jackie to an extent.
Stickman: The Anti-Matter Jackie Kennedy will destroy us all.
Larry: Apparently Portman is good, so I hear.
Stickman: I haven't really heard much of anything about this film so it's safe to say its chances of awards glory are as dead as my faith in society to repair itself. Could still be good though, right? RIGHT?
Larry: I mean, yeah it could. Nobody will really know though. Since nobody will see it.
Stickman: It'll come to Netflix some day....soooome daaaaay. Maybe. Or Amazon Prime.
MOVIE OF THE WEEK
Stickman: WELL, that about does it for cinema releases this week....HMM...MMMMM....INTERESTING. But there's one last order of business to get through before this disaster of a blog can end...and that's MOVIE OF THE WEEK. OH SHIT. FUCK.
Larry: WOOT WOOT
Stickman: It's all about the biggest and best new releases of the past week or so, huh? All the n....newest...films...right Larry? Right?
Larry: Sigh, alright ya got me. I didn't get much of a chance to see any new releases. sad face.
Stickman: How dare you be busy with life, family, work and education. For shame. As punishment you must now go first.
Larry: Welp, thankfully, I caught a film that was just recently re-added to Netflix, one that I remember enjoying my first time seeing it. I was just doing some work and decided to put it on in the background, and slowly but surely it sucked me in completely, and that film was Cloudy with a Chance of Meatballs! Before they were rocking the world with LEGO stories or web-slinging surprise smashes, Lord and Miller wrote and directed their first animated film with Sony Pictures Animation, "Cloudy with a Chance of Meatballs," based on the children's book of the same name. The film stars Bill Hader as Flint Lockwood, a devoted but generally unsuccessful inventor who creates a machine that transforms water into food; after accidentally rocketing it up into the sky, the machine begins to rain food down onto his local town, and it creates a strange meteorological phenomenon. But all is not well once the food begins to grow too large, destroying the town, and it's up to Flint to save them.
From the film's very opening, you can see just how wonderful and hysterical Lord and Miller's storytelling is from the very onset of their career in film animation. There are so many wonderful, subversive jokes throughout, keeping you on your toes. And, naturally, the food puns and imagery are excellently executed into the film's comedy, making for a generally delightful experience. The animation is also bursting with color and some genuinely solid detail as it goes on, and it's very wacky with the character designs that injects it with plenty of personality. The voice acting is good all-around, with Bill Hader leading the pack alongside Anna Faris, Andy Samberg, and others; it's a serious all-star cast when you look at it. The film's pacing isn't exactly perfect, and it goes around some conventional bends in the story and script, but as a piece of children's entertainment, it has a solid message at its core and a fun concept executed surprisingly well. Definitely give this a stream if you're looking for something light in the background...or the foreground. I dunno.
Stickman: Hoooh, I see you totally meant to tie this into our big movie of the episode, right? RIGHT?!
Larry: TOTALLY. SEE I'M A GENIUS.
Stickman: Who neeeeds Mowgli. IMEAN...sooo....meatballs huh. I've seen most of this film and it was reasonably inoffensive but didn't do much for me. Colourful for sure.
Larry: No yeah, it definitely doesn't have the thematic heft of say LEGO Movie. But for their first animated film (outside of their animated TV work), it's really well done.
Stickman: It's not a bad one for sure.
Larry: And it showcases their creative brilliance very early on. They ended up making a sequel that I saw that...yeah, wasn't as good. You can tell L&M really put their spin on the idea.
Stickman: I forgot they made a sequel. Oops.
Larry: Yeah, they got story credits but did not do much else. No direction, no script, etc.
Stickman: It had the monkey in it though I guess. They also made a TV show I believe. The big colourful CGI food stuff always looked nice.
Larry: Oh shit, did they? Damn, this franchise had some mileage.
Stickman: Well it did, now it's PASSED ITS SELL BY DATE. HEEYOOOOOO.
Larry: AYYYYYYYOOOOOOO But nah, it's good stuff. Give it a watch!
Stickman: NEVER. Alright, my turn since there's no Madhero to tell me to make a segue.
Larry: SOMETHING SHIT I bet okay cool go on
Stickman: WELLLLLLL you'll be eating your words like meatballs from the sky in a minute, because I'm doing Sorry to Bother You...the US summer indie hit ...finally coming to UK cinemas...in December. NICE. I've been looking forward to seeing this for a long time, it looked pretty ace, even if in the waiting period between the US and UK release the lead actor did a stupid free-style rap thing. 
Irregardless, I finally got to see it...and yep, it's pretty great! Lakeith Stanfield plays a down on his luck MAN who lands a job in a telemarketer office, initially struggling to make it work before discovering his 'White Voice' with the help of Danny Glover who...yes is actually too old for this shit. What ensues is a bonkers and entertaining comedy romp that takes one of cinemas most insane left-turns in the 3rd act, genuinely leaving me dumbfounded in the best possible way...although unfortunately that big twist comes at the cost of the last 30 minutes of the film, which become a bit messy and unfocused. Regardless, I enjoyed every minute of this film, it's got great performances, it's visually tip top, the music is well used...and yeah, really fun film. Get ready for a shock, mind.
Larry: I didn't really vibe with this movie, if I'm being honest. I just don't think it's my kinda movie.
Stickman: How dare you.
Larry: Once the twist happened I just sorta lost my interest seeing as it was so blatant in its symbolism lmao
Stickman: I guess it never set out to be subtle.
Larry: I felt like a pan was being hit over my head every five minutes. But hey, David Cross speaking for Lakeith Stanfield? Quality.
Stickman: I thought it was Patton Oswaldo.
Larry: It's a very funny film for sure. Just...kinda too weird for me. Nah, Patton was the other guy. The dude with the bowler hat and eyepatch.
Stickman: Ah, SHIET. And yeah, it's very weird. But I like that, and it is cohesive enough...for the most part, that it doesn't come across as unentertaining nonsense. It has a structure and a narrative, even if it is bonkers. I really wish I could go into the twist but I won't, because I waited half a year to see it and was fortunate to not have it spoiled, so I won't spoil it for anyone else.
Larry: I just didn't really like that many of the characters either. Found them all either unlikable (intentionally so) or just not super compelling.
Stickman: I mean I'm not sure you're supposed to like a lot of them.
Larry: Except for Armie Hammer. That man is a legend.
Stickman: Armie Hammer clearly had a blast making this film, as did most of them it seems.
Larry: Yeah. I also will say the film has a distinctive look and flow, which is good for a first-timer like Boots Riley. I just wouldn't call it particularly strong as a film.
Stickman: I look forward to seeing what he directs next, because this was a really confident and creative first feature. I feeel anyway. Look, I had a choice between this and The Girl in the Spider's Web so, you'll have to get back to me on if I made the right call Larry.
Larry: Well, I haven't seen the latter, but even with my complaints I'd say you made the right call. At least the most memorable call.
-----

Stickman: Damn straight. AND ON THAT NOTE...it's over. We're done. I don't think we fucked up too bad, right?
Larry: Nah it looks alright.
Stickman: Who needs Daddy Madhero.
Larry: LET'S REBEL
Stickman: YES, but...let's do it next episode, when Aquaman's abs are here.
Larry: Ooh, he'll make a great addition
Stickman: A great Abdition. Alright goodbye. Show's over. Go home.
Larry: GET OUTTA HERE. GO.
Stickman: SHOO