It's time for our regular segment in which @Gafgarian (AKA Jeremiah Palmer) provides answers to the burning questions left unanswered in each episode of the Rooster Teeth Podcast. Read on to get closure for He Loves Barbies – #457.
K-pop music video as Nazis?
Pritz is a South Korean pop group that made some minor headlines in late 2014 when they performed at a horse racetrack wearing the outfits in the picture below: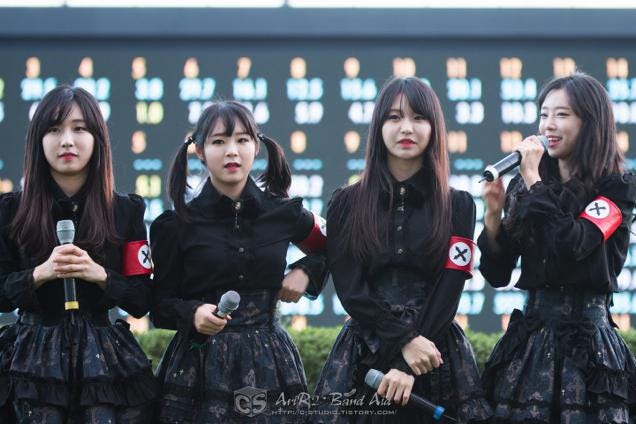 Naturally, this caused a bit of an uproar across fans and news outlets. The band claimed ignorance and their managing talent agency responded with, "the thought never occurred." They went on to say that the armbands were not inspired by Nazi armbands but rather a multi-directional traffic sign. The arrows intended to represent the group's intention "to expand without a limit in four directions."
Pritz would shortly follow up their live performance with a music video featuring the controversial outfits, as well as several live performances. Despite the negative feedback, the group, and talent agency, still stand behind their outfits.
Gal Gadot pronunciation?
We actually tackled this one a few weeks back in the answers to #442. Here is that post's response:
According to the Amazonian princess herself, in a 2016 Jimmy Kimmel interview, the proper pronunciation is actually "guh-DUTT," with a hard T at the end. However, another video, shown below, is a mashup of various news reports and announcers attempting to pronounce her name. One of the first pronunciations is of Wonder Woman pronouncing her name as "guh-DOTE"! This video is older, and the clip older yet so this difference could be attributed to an audio flub or even a purposeful "Americanization" of her name. That said, since Gal actually takes time to correct, and teach, Kimmel the proper pronunciation, it seems safe to say that is the most accurate. That or, as she is supposedly known around movie sets for her sense of humor, she is just quite the prankster and is secretly teaching everyone to say her name slightly different.
On a related note, her parents' original surname of Greenstein would've been far easier to pronounce for us all.
Blueprint Batman sheets?
Apparently we all shopped at KMart, hah! As soon as you mentioned the blueprints I immediately knew exactly what you were talking about. Along with the sweet Batman linens, I also had the below Star Wars bedding which I recently stumbled across in a vintage booth at an arts flea market. Nothing makes you feel old quite like having the word "vintage" tacked onto your memories.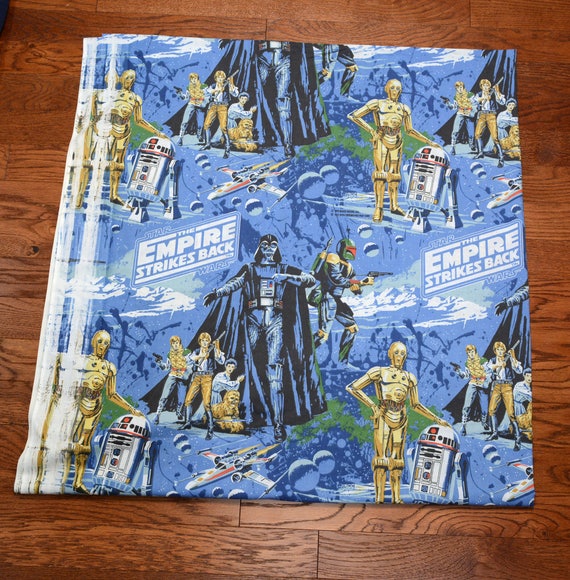 Plural of LEGO?
As confirmed on the Podcast, the plural of LEGO is just "LEGO." Like sand, you have buckets of LEGO or, if you absolutely must have an "s," LEGO bricks. The battle against the added "s" has been a relatively constant thorn for LEGO for years. As early as 1980, the below message was printed on several LEGO set boxes.
Dear Parents and Children:

The word LEGO® is a brand name and is very special to all of us in the LEGO Group Companies. We would sincerely like your help in keeping it special. Please always refer to our bricks as 'LEGO Bricks or Toys' and not 'LEGOS.' By doing so, you will be helping to protect and preserve a brand of which we are very proud and that stands for quality the world over. Thank you!

You may wonder why this is such an issue. Why do they care if you are adding an "s"? Their reason is actually pretty sound and, unlike the GIF vs "JIF" debate, has very real consequences. In the world of trademarks the worst thing that can happen to a brand is the genericization of their company's assets. This is the reason why Google is against you saying, "I'll just google it" when referring to searching the internet. Notice the purposely used lowercase "g" in that statement. Every use of Google's brand as a verb dilutes the brand itself, and continued use could eventually lead to the complete dissolution of their trademark. It is for this reason that LEGO, over 35 years ago, printed messages on boxes letting us know that they would like our "help in keeping it special." This is a very literal statement. By adding the "s," we are potentially dooming the LEGO brand. Unfortunately, this brand is the only protection LEGO has left, as their patent on the configuration of the brick expired in 1988. This means that the only thing stopping a company like MegaBlocks from capitalizing on the LEGO name is their trademark on those four letters.
A more recent, and less friendly announcement from the company on the proper use of their brand name includes bulleted instructions on proper use.
Please help us to protect our brand name:
The LEGO brand name should always be written in capital letters.

LEGO must never be used as a generic term or in the plural or as a possessive pronoun, e.g. "LEGO's".

When the LEGO brand name is used as part of a noun, it must never appear on its own. It should always be accompanied by a noun. For example, LEGO set, LEGO products, LEGO Group, LEGO play materials, LEGO bricks, LEGO universe, etc.

The first time the LEGO brand name appears it must be accompanied by the Registered symbol ®.
An unfortunate side effect of the LEGO Group's recent, and succinct, message is that it has inadvertently drawn out some proponents of the term's genericization. This stance is typically supported by the claim that LEGO originates from the Danish "leg godt" which means "play well" and is typically used as an adjective. They go on to point out that the generalization of a brand has never originated from an adjective and had its generic use be a noun. Instead, more frequently, the genericization occurs when a noun becomes a more widely used noun, such as aspirin, or a noun becomes a verb, as in trampoline or yo-yo.
Interestingly, while researching this, I learned that the addition of the "s" when discussing LEGO is apparently a very "American" thing to do. This was initially thought to be because of the tendency, in English, to immediately append an "s" to signify plurality; however, it seems that most English speaking countries, including Australia, the UK, and India, do use the proper form of LEGO in most cases. The added "s" seems to be a majority American thing to do. There is no real known origin, and it likely cannot be tied back to a single use case. Just know that in the event LEGO does lose its trademark due to a determined genericization of their brand, it is likely our, meaning Americans', fault.
Now that you know a bit of both sides of the argument, what are your thoughts? I know there are quite a few international RT Community members, so naturally we need to know which form of LEGO you, and those around you, tend to use. And, of course, strawpoll!
Do they still make Bionicle?
Bionicle were a line of advanced construction LEGO sets which were launched as part of LEGO Group's Technic series in 2001. In order to create more interest for the understandably more difficult building concepts presented by Bionicle, a robust storyline accompanied the Bionicle universe. It was this fully developed backstory which led to the series' name. Bionicle, coming from the combination of "biological chronicle," was chosen because of the storyline emphasis on a science fantasy world inhabited by biomechanically engineered protagonists and antagonists.
Though hesitant at first, LEGO investors quickly saw the realized potential of the Bionicle brand as it became one of the most successful lines in company history, netting them £100 million in its first year. Over the next decade, Bionicle would appear in a multitude of formats, from comic books and novels to video games and four direct-to-DVD full length feature films. Despite this popularity and the reception of multiple toy rewards over the next decade, Bionicle was discontinued in 2010. It did make a very brief resurgence just in time for holiday season 2015, only to fall again shortly thereafter.
What does Disney XD stand for?
According to Disney's President of Entertainment for Disney Channel Worldwide, Gary Marsh, Disney XD does not actually have a meaning. It was only chosen due to the aesthetics of the letters next to each other. This is despite the use of the abbreviation on a previous Disney website iteration featuring an interactive web interface known as Disney Xtreme Digital.
Crossfire remix?
There are a few remixes floating around out there on them interwebs but perhaps the most popular is a bit from 2011 featuring Mr. Freddie Wong and hair metal band Steel Panther. Here's the video!
On a related note, my best yard sale find to this day was the moment 10-year old me stumbled across some grandma selling her poor grandson's Crossfire for $3. It was one of a handful of commercials in my life that have totally delivered on their promise. The game was legitimately fun to play, even if the guns had a tendency to jam on you and there were no explosions when your marbles would hit the opponent's spinners.
Kids with seizures and cannabis oil?
To clarify, this treatment while commonly referred to by the more generic moniker of "cannabis oil" was actually, more specifically, cannabidiol or CBD. This compound is one of more than 80 active cannabinoid chemicals in marijuana, including tetrahydrocannabinol, or THC, which is the substance responsible for getting you stoned. CBD can also be found in the non-psychoactive, yet still illegal, hemp plant, though studies suggest that CBD from the marijuana plant are more potent and make for a better medicine.
This specific discussion references a 2016 study performed by NYU Langone's Comprehensive Epilepsy Center. During a 14-week period, 120 pediatric patients diagnosed with Dravet syndrome were given either a cannabidiol oral treatment or a placebo in order to assess the viability of a cannabinoid treatment for the debilitating disorder.
The severe childhood-onset disorder affects 1 in 30,000 children in American and can cause developmental delays, including speech, language, behavioral, and balance issues. It is very common for those suffering from Dravet to experience severe epileptic seizures that can have a frequency as high as 30 in a single day. Due to this severity and the spectrum of possible effects, existing epilepsy medications have very little effect on those suffering from Dravet. According to Dr. Orrin Devinsky, the lead author of NYU Langone's study, this can mean death rates as high as 20% before age 20.
During Devinsky's study, the frequency of seizures was, on average, nearly half for those taking the CBD compound. The placebo group, predictably, did not change dramatically, experiencing only a 13% decrease in frequency. He would also show that 5% of the patients would become free of all seizures, or seizure-like symptoms, while taking the CBD compound. Overall Devinsky did declare the study a success but was quick to insist that there is more work to be done. He would later say, "CBD is an effective drug for this type of rare epilepsy but was not a panacea (or cure-all) for these children," pointing out that the CBD group was not without side effects, including vomiting, dizziness, and exhaustion.
Devinsky and his peers are encouraged by the study, stating that any legitimate study which shows any form of cannabis treatment as a viable medicinal option is a step in the right direction toward getting the FDA to reclassify the drug. At the moment, due to the 1970 Controlled Substances Act, marijuana is still classified as a Schedule 1 drug, meaning that it is recognized to be on the same legal level as heroin, LSD, and bath salts, and is not seen to have any "accepted medical use and a high potential for abuse."
Naturally, proponents of medical marijuana point to Devinsky's study, and many others, as further proof that this is, at best, a misguided and misunderstood incorrect classification and, at worst, an example of the FDA blatantly ignoring fact in order to maintain control over a substance which has a complicated potentiality for taxation.
Is dabbing also a drug term?
It is! Dabbing, in drug lingo, is a reference to the DIY vaporization and ingestion of hash or cannabis oil by placing it on a hot surface and ingesting the vapor released as the cannabis concentrate boils and bubbles away. This vapor is typically much more potent than a typical hit of weed and, given the reliance on the specific chemical composition of the concentrate as well as a more complex ingestion process, it is certainly a more dangerous and complicated method of getting stoned.
Why can law enforcement compel you to unlock your phone with a fingerprint but not if you have a passcode?
They can do this because a fingerprint is not considered "knowledge" and, due to a literal interpretation of our fifth amendment right against self-incrimination, is not protected under the law. However, a passcode, passphrase, or pass-pattern is protected. In 2014, a Virginia judge ruled that police CAN force you to unlock your phone with your fingerprint; however, it was not until the 2016 San Bernardino shooting that a judge would issue a search warrant that required a suspect to unlock their phone via their fingerprint.
In iOS 11, Apple fought back against this perceived unconstitutional legal loophole by providing a quick shortcut to disabling your phone's TouchID. To quickly disable your TouchID, simply press the sleep/wake button of an iPhone, running iOS 11, five times in rapid succession. A screen will appear which has options to power off, bring up your Medical ID (if filled out), or make an emergency 911 call. There is also a lone cancel button. Upon hitting cancel, or making an emergency call, your TouchID will be temporarily disabled and you will be required to enter your passcode in order to access your phone. Prior to this update, the TouchID could only be disabled by power cycling the phone, waiting 48 hours without using it, or disabling via settings. All of these methods still work, of course, but the newest method certainly has a more obvious purpose behind it given its ease of activation as well as the lack of direct feedback that the fingerprint scanner has been successfully disabled.
For those curious, the Virginia judge's decision would also apply to the FaceID scan to be launched with the iPhone X. According to that ruling, a person's fingerprint, DNA, handwriting samples, or likeness are not protected by the fifth amendment. Thoughts on this one? Should it all be protected or are a person's fingerprints and DNA public enough for possible incrimination?