Let's change this up, shall we?
I picked up a copy of Jonathan Hickman's The Black Monday Murders this week, and I was impressed enough to write up a loose review.
Here's the cover, just so we understand what we're getting into -
Yes, that is a goat skull, and the name of the trade paperback is: "All hail, God Mammon"
It is very up front with what's inside.
The reviews I read called this 'cryto-noir', a phrase that's definitely fitting. It's decidedly noir, all thick shadows and disillusioned characters. As the beginning of a murder mystery, it's got my vote. But it's the crypto- where things get interesting.
When people use the the term 'Lovecraftian', they usually mean a piece of fiction with an uninteresting doomsday prophesy, and some tentacled horrors. Which is... fine. Keeps the genre alive. 
But one of the core concepts that Lovecraftian fiction bases itself on, is the idea that the whole world is rotten to the core, and puppeted by vast and uncaring forces. There are no winners, and the Big Bad is never finally defeated, just held back. Cthulhu and associates need not apply. Which makes modern economics a perfect environment for this kind of story. That's right - this is a Wall Street tale, rich in corruption, mystery, and a body-count that would make George R.R. Martin cringe. All wrapped in a thick and leering tapestry of occultism and conspiracy.
I'd like to say a great deal about the writing, but I hate spoilers with a passion, so here goes: This is a noir murder mystery, spliced with a grand conspiracy of generations. The interlinking connections, grudges, and betrayals form a rich net of deep distrust, one that the reader gets a sense of immediately. There are plots, none of which are fully revealed in this issue, and a sense of real depth. The shifting perspective shows off the world almost effortlessly, not sparing time to explain for the reader. It's a hazard, but it plays well. At times, characters build a bed of lies, half-truths, and hidden traps that are far more visible to the reader than anyone else. In others, it's blunt and efficient, a Darwinian scheme of power and violence made manifest. A trade paperback isn't a full story, or even half of one, so calling full judgement is difficult at best. But when this novel needs to be punchy, it goes for the kill, and it's unsettlingly subtle whenever else.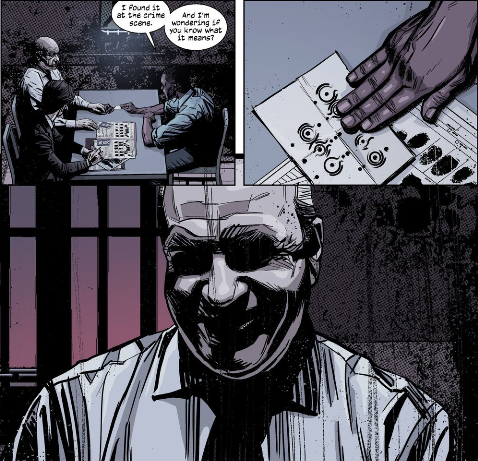 Artist Tomm Coker delivers the noir vibe and sensibility even more then the writing. The photo-realistic style and muted, strategic use of color pulls the eye. In contrast with a lot of modern releases, there are only a few truly stand-alone splash pages. Most of the powerful visual moments are quiet, tense, and ultimately threatening. The horrific subject matter isn't on full display, but rather down-beat. At no point does the book ask the reader to stare at a bloody scene for its own sake. Often the darkest of events happens off-screen, or on one memorable case, just to the side. The rich, stark style plays beautifully, and makes every scene utterly believable, relatable. Especially the titular murders.


What The Black Monday Murders is not is accessible. The excellent and fun Rat Queens tells you who it is from page one. The reader knows instantly what kind of stories will be told. The surpassing Saga does the same, with fever-dream sensibility and brass balls. 
Here, Hickman jumps into the deep end without a snorkel. Layers are peeled back, little by little, with the help of a plethora of conversation transcripts, maps, and histories to lay a foundation for the madness happening in the pages. This is where The Murders shines, if you can make it there. A great many first volumes in graphic novels dither. They spend a majority of their time setting the scene, and their world-building can really hurt the flow of the story. Hickman asks you to dive, and hopes you'll get a feeling for things on a first read. And that's the appeal. This novel asks, practically demands a second and third read, as the mysterious and rune-splattered organization charts and history clips snap into focus.

The Black Monday Murders is a dark story, and it makes no apologies. But it has a deep story to deliver, with noir sensibility down to the bones. Volume One impressed me from the first few pages, and lays a concrete foundation for further volumes. It's bloody, haunting, and rich. Like swimming over a continental self, the drop-off is vast and inky. I'm itching, somewhat spasmodically, for Volume Two.
Note: This is not a comic book. This is an adult graphic novel, intended for people not bothered by mature themes. Don't buy this for your fourteen-year old cousin.