I've been Sundance at least a half a dozen times at this point, but I have never, ever scored a ticket to the opening night movie. This is a little bit inside baseball, but bear with me a second... The way this festival works is that there are press badges for folks like me that get you into press screenings, but you need a hard ticket for any public screenings
The press screenings are lovely and for opening night they typically run the press screenings at the same time as the first couple of movies play, which is a break from the typical day-after wait we have to do. So I've always done the press screenings. It's less stressful, I see the movies at the same time, etc.
But I was able to request a ticket this morning for the actual premiere at the giant Eccles Theater and low and behold I got one. That meant I could see the film in a giant house and get to watch the Q&A afterward. It also meant that I finally, for the first time in however many Sundances, I got to see Robert Redford in the flesh.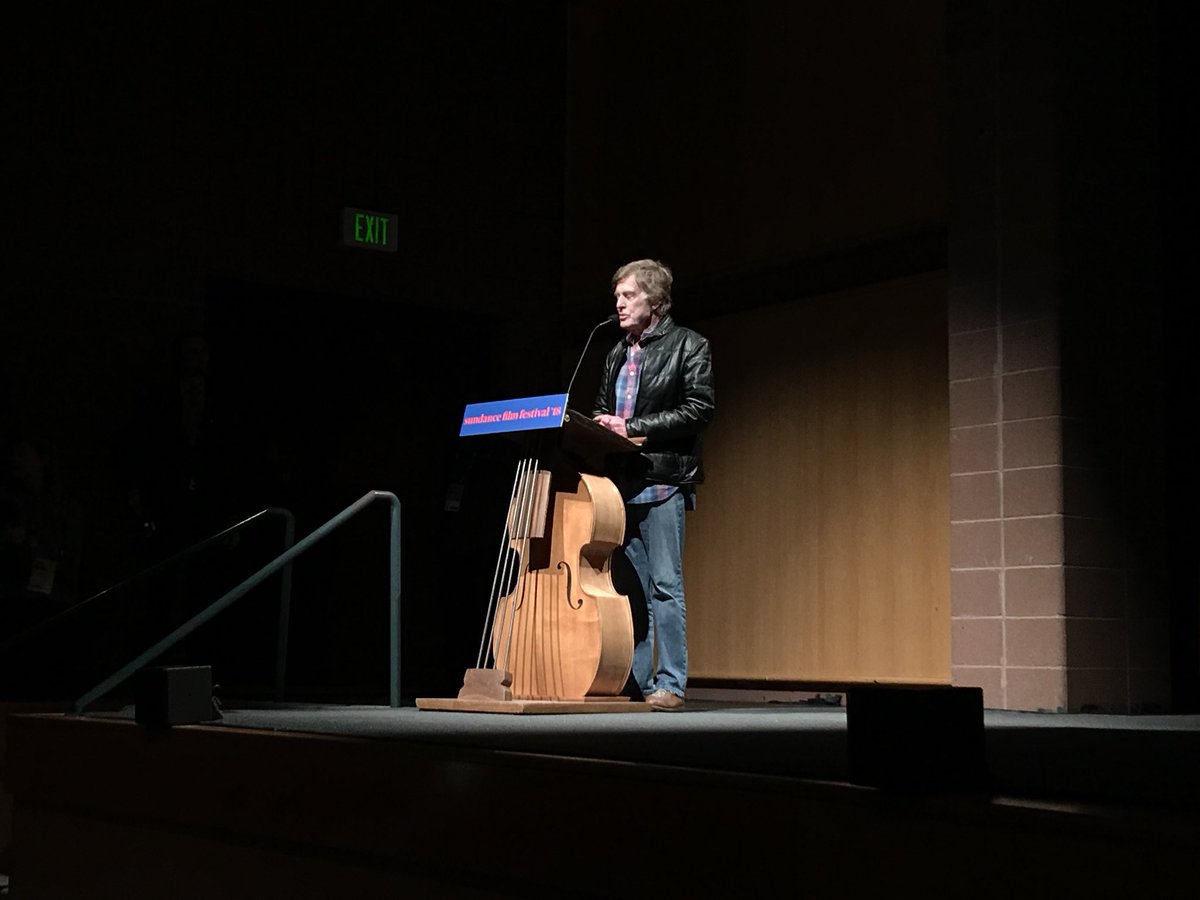 He came out to welcome everybody to Sundance and officially kick off the festival. Being a massive fan of his work throughout the years (no shit, The Entertainer from The Sting played in my head as I witnessed him walk out on stage) this was a legitimate thrill, even if his time up there was brief. You could still feel the passion he had for cinema and his love of this fest and the Sundance Lab that mentors up and coming filmmakers.
You could say I was buzzed and in the right frame of mind to let this movie work on me. That's fair, but I've been in some really exciting screening scenarios in my life (from world premieres to hand-picked-by-the-director months early previews) and felt the air get sucked out of the room right away.
That didn't happen with Blindspotting. Quite the opposite in fact.
It should be noted before I start talking about all the stuff I loved about this movie that I know two of the producers pretty well. That wouldn't stop me from being honest about my opinion of their movie (and certainly hasn't in the past), but I get that it muddies the water a little bit and wanted to be up front about that so you could decide for yourself if that bias shows through in this review.
Blindspotting shifts tones wildly, but it's not at random. It'll be a funny buddy movie one minute and then out of nowhere shit gets real. Writers (and stars) Daveed Diggs and Rafael Casal as well as director Carlos Lopez Estrada very smartly used these tone shifts to put the audience off guard.
One minute Diggs and Casal are cruising around Oakland, freestyling raps about their day to day lives and taking the piss out of each other the way that only best friends can and the next minute Diggs witnesses a police officer shooting a black man who is running from him.
We're as stunned as Diggs' character is and we feel his trauma at that moment. We understand his situation. He's a good guy trying to do right by those he loves, but he's also at the tail end of his parole. We don't find out until later exactly what his crime was, but we know he's served time for a felony and is trying his best to play by the rules so he can get some semblance of his life back.
That adds a tension when he witnesses this shooting. He's out after his curfew, just wanting to get back to the halfway house so he doesn't risk adding another year to the parole and this happens to occur right in front of him.
This dredges up all sorts of emotions. Fear, guilt, anger. It's one thing to live as a black man in Oakland and know this is a possibility. It's another to witness it, especially when coming forward would put him in the crosshairs even if it wouldn't automatically trigger a lapse of his parole.
What's interesting about this movie is that as heavy as that is as subject matter it doesn't weigh the movie down. There's emotional payoff to it all, of course, but it's not a preachy movie trying to make all the white folks in the crowd feel guilty and all the people of color in the audience angry. There's way more to it than that.
Blindspotting is a movie about race relations, yes, but it's also about gentrification, cultural appropriation, a deeply complex friendship that is both supportive and toxic in equal measure. All that is there, but it hangs on the two lead characters.
I was quasi-familiar with Daveed Diggs before this movie. I knew he was one of the original talents behind Hamilton and that was about it. I'd never heard of Rafael Casal before last night. Having seen the movie I'm convinced we'll be seeing a lot of both of these guys in the near future. The countdown for one or both of them being cast in a big superhero movie or Star Wars or something is officially on. Their charisma is that good, especially together.
Apparently Diggs and Casal are longtime friends and it shows on the screen. Diggs is the down and out ex-con trying to make his life better and Casal is his white, grill-wearing best friend that is either determined to drag him down or pull him up. You're never quite sure and the truth is he does both, but he's not a malicious dude. He's loyal to a fault and is so smooth he could sell ice to an Eskimo.
The true delight of this film is watching these two together. Director Carlos Lopez Estrada smartly lets the charisma of his fantastic cast carry the film. Diggs and Casal are front and center, but they're surrounded by some great performances.
There's Janina Gavankar (probably best known to The Know readers as the face and voice of Iden Versio in Battlefront II) who plays Val, Diggs' ex-girlfriend who has cut romantic ties after his incarceration. There's obviously still something there between them. She's supportive, helping him in real ways (like getting him a job while on parole), but she refuses to let him get distracted by rekindling the romance.
This role could have been one note and Gavankar could have easily come off as naggy if we didn't see so much unspoken emotion between her and Diggs. The character is written better than most of this type and Gavankar plays it perfectly.
Despite the focus of the movie being on male friendship there are surprisingly many strong female characters. From Diggs' character's strong-willed mother to Casal's wife who absolutely is the glue holding that family together.
Gavankar gets the most screen time of any of the strong women in this film, but even though they don't dominate the narrative the women in this story are complex and multi-dimensional.
That brings us to Ethan Embry who delivers a mostly silent, but hugely powerful performance here as the cop that shoots down the fleeing suspect. I don't want to say much about this part, but Embry does so much with so little that I was flat out floored by a big moment he has.
The effects of the shooting are way more on display than the event itself. There's a little bit of PTSD injected into Diggs' performance and it rocks his character to his core, but more than that it puts the audience in his shoes. For the super white folk (like me) it allowed us to feel a fraction of that fear and tension that people of color live with every moment of every day. I became instantly pessimistic. I saw trouble in every police car that drove by and felt like everything was going to end horribly.
Whether it does or not I'll let the movie tell you when you eventually get the chance to see it, but the fact that it did indeed place me in the shoes of someone with a wholly different life experience than my own proves to me that it was a huge success.
I don't expect everybody to love this one. Some film watchers hate it when tone shifts on a dime like it does here. I love it, personally, because that adds a layer of unpredictability that is always exciting, but it can throw a whole lot of people off. The message of the movie is laid on pretty thick in the final act. If you're on board, it'll have you on the edge of your seat. If you're not then you could find yourself pulled even further out of the film, but I have to believe just about everybody who spends any amount of time watching Daveed Diggs and Rafael Casal (and his character's ridiculously adorable young son) play around with each other will be charmed into submission pretty quickly. I know I was.
This was a hell of a start of the festival. We got lots and lots of movies coming up, but I already feel like I'm playing with the house's money, so to speak. I'm ahead of the game with one great movie already behind me. Can't wait to see what else is in store.